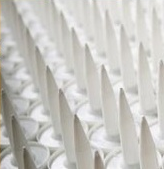 Acetoxy sealants
Acetoxy sealants offer good adhesion and resistance to ozone, UV radiation and temperature extremes. So they're tough enough for sealing showers, sinks, and whirlpools, as well as industrial sealing and bonding in a range of other markets.



Alkoxy sealants
These ready-to-use sealants offer a neutral cure, meaning they can be used on sensitive substrates. They also have a low odor and can be used in geographic regions where the use of Oxime sealants is restricted.



Oxime sealants
Oxime sealants cure to a tough, flexible elastomer that's non-acidic, allowing compatibility with a variety of substrates. They can be put to use in a range of jobs such as sealing window and door frames, skylights, gutters, vents and pipes.